William Stall/Stahl Jr. was the sixth child of record of William and Susanna Firebaught Stall. The Jr. is used in the mid 1800's but after 1860 it is dropped in the records. Like so many of the others, when I set down and type what I have in order I see so much I do not have and gaps that need filled, so like some of the others, William Jr. will be revisited at a later date. Also some of William's descendants should be around, but I have yet to make contact with them, so if any of them find this, get in touch with David or me and let's get this finished.
William Jr. was born in Crawford Township on February 21, 1828. He married Cathrine Rinehart on February 25, 1855 in Tuscarawas County when he was 27. She was from Bucks Township, Tuscarawas County and was born July 22, 1835 and died December 8, 1896. William Jr. died April 8, 1912. Both are buried at Baltic, Ohio (Bucks Township, Tuscarawas County, Ohio). The Rineharts were a large family and resided around Baltic. One of them had a store in Baltic for several years.
William Jr., like his brothers was a farmer. He obtained some land from his father in Crawford Township, but after his marriage moved to Bucks Township in Tuscarawas County where he remained for the rest of his life. This farm on which he resided was a Rinehart farm I was told.
Like his brothers in Ohio, William Jr. used the Stall spelling for most of his life, than later changed to Stahl and is buried as such. The two infant daughters buried at Baltic are buried Stall.

This is William Jr. from the May 1910 picture. I have an earlier picture that I think is him, but I will put it with the unnamed picture section since there is an element of doubt. Since he did live so long and had at least 12 children, there must be more pictures of him somewhere out there. William Jr. and Cathrine had the following:
1. George Washington Stahl, Born February ll, 1856
2. Martha Ellen Stall, born March 7, 1857
3. Ervin (Irvin) Stahl, born September 6, 1858
4. Cyrus Stahl, born March 12, 1860
5. Elisabeth Ida Stall, born July 5, 1862
6. Maria (Mary) Katharina Stahl, born November 18, 1863
7. Wilhelmina Stall, born April 7, 1865 - died October 31, 1865 buried at Baltic, Bucks Township, Tuscarawas County, Ohio
8. daughter, born October 21, 1866 (this is from church record, needs more research)
9. Malinda Stall, born July 23, 1868 - died May 3, 1869 buried at Baltic.
10. Celoma Stall, born February 4, 1870 (twin)
11. Celora Stall, born February 4, 1870 (twin)
12. Carolina Stahl, born May 15, 1872
There may have been a 13'th child, again this needs more research, but I want to state it here in case it's true and someone has info on this. E. Swigert in the 1909 Coshocton County history says his wife was one of 11 children, all living, born to William and Cathrine Rinehart Stahl. Since Wilhelmina and Malinda were dead at this time, that would leave 10 children living, so I may be missing one. Also when I get back to Coshocton I will strain my eyes on the census rolls and try to pick up the name of the unnamed Baptized daughter born in 1866.
#4 Cyrus Stahl married Maggie Swigert, they had no children, his obit. follows: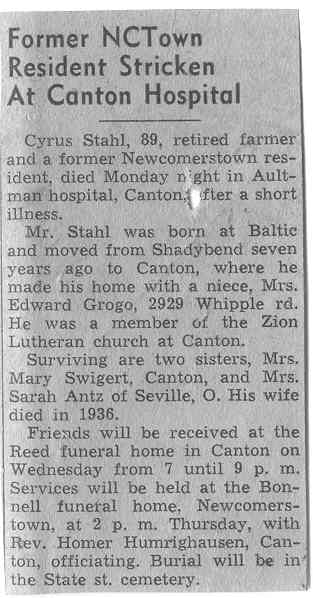 Mary Stahl married Eliashia A. Swigert in 1892. They had two children Bryce C. Swigert and Edith Swigert. I have a picture of them: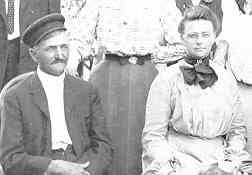 This was taken in August of 1904.
In May of 1910 a large gathering of William Jr.'s children was held at E. Swigert's place near Fresno, Ohio. Unfortunately no names are on the picture, but it was at his gathering the great picture of the brothers and sister (and sister-in-law) was made.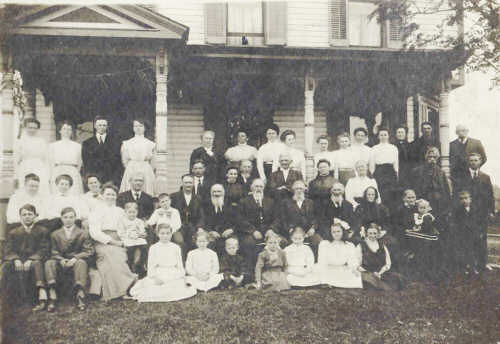 I know of very few in this picture. Mr. Bender is the first man from the left, just to the left of porch post behind child on woman's knee. The last five in the second row are David Stall, Samuel Stall, William Stahl Jr., Elizabeth Stall Swigert and Mary A. Stahl, widow of Daniel Stahl. I don't know who the child on Mary's knee is. It's interesting that in this picture, starting with David Stall, the siblings are in order of birth, David the youngest, Mary the widow of the oldest in this lineup. David would have been about 74, Sam 76, William Jr. 82, Elizabeth 86, Mary 66. I don't know who the old man to the left of David Stall is, probably a Rinehart or Swigert as this was taken at Swigert's home. The man behind David and Sam is E.A. Swigert.