Daniel Stahl/Stall was the second child of William and Susanna Firebaugh Stall. Born Sept 6, 1819 in Coshocton County he was raised in the wilderness. Hill's 1881 Coshocton County History says the follow: " [Crawford Township history, page 488]... Game was abundant among the hills for many years after the first settlers arrived. Wolves in large packs prowled through the forests and made the raising of sheep an impossibility for a long time. The bears acquired a keen relish for pork, and frequently dined upon their favorite dish. In unison with their wild surroundings, it was not uncommon for the pioneers to make pets of bear cubs, and they would even attempt sometimes to domesticate the young of the panther, which was occasionally seen. In several instances did children narrowly escape death form attacks of these half-grown savage pets."
Uncle Ed said that once Daniel tracked a panther which went up a tree as night fell. Daniel built a fire and camped near the tree so that the panther would not come down and escape. Just as morning dawned the panther leaped from the tree and killed one of his dogs before he could shoot it. The panther measured 6' 9" from nose to tail.
Indians still hunted the area until about 1840 when they slowly migrated west. At the time of his youth, the nearest town was ten miles away.
Daniel grew up farming but he also engaged in mercantile business after Chili was started in 1834. He probably grew up working with sawmills as his grandmother had a sawmill according to her will. William Stall probably worked the sawmill some also. Later Daniel built a sawmill on White Eyes Creek in Adams township, sometime before 1850. At the time he still lived on the home farm in Chili and would walk to the mill to saw. He would saw Friday, all night Friday, Saturday until Sun morning and walk home. Uncle Ed said sometimes he would fall asleep and the saw would cut at his coat-tail.
This sawmill, as was most others of this era was what is known as an up and down saw. The water wheel would turn gears that would make a thin blade move up and down while the mill carrage would propel the log forward as it cut. There are still boards at the Daniel Stahl homestead that were sawed at this mill. It's easy to tell the old style saw because the saw marks go straight up and down while the later sawmills used a circular saw blade and the blade marks are circular. How long he had this mill I don't know at present but he had it about 25 years. Some of his saw records exist, in a later installment I'll scan some.
Daniel did not marry until March 22, 1864 when he was 44 years old. He married Mary Ann Endlich, daughter of Jacob and Caroline Froelich Entlich. The Endlich/Entlich were from Bavaria but Mary was born in Ohio. She was reared near Bakersville and went to the same church as Daniel and yet was not a member of the same congregation. The Lutherans and the German Reformed Congregations went together to build a church just north of Bakersville. This is known today as the Evans Creek Church. The two congregations split the cost and split the cost of upkeep. They would each have their own services at different times so as to not interfere with each other. This is where Daniel and Mary are buried. Daniel was a Lutheran and Mary, German Reformed. Later the congregations would split and the German Reformed congregation bought an abandoned church in Bakersville and fixed it up. This was in 1911.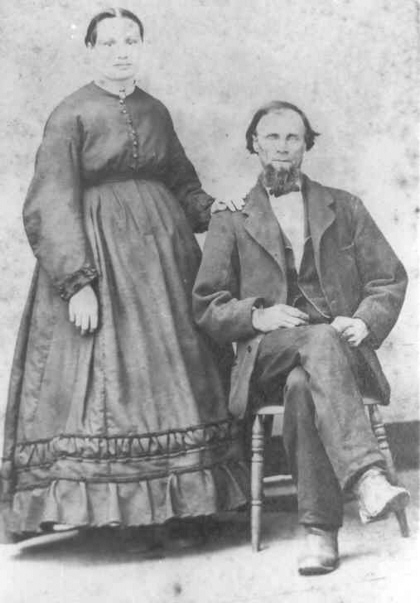 This is the wedding photo from 1864. Mary was born Nov. 7, 1844 so she would have been 19 at the time. She was literate and fairly well educated for the time. She also was a mid-wife, that is she helped the neighboring women when they were giving birth. It wasn't until 1873 that I have record of a child from them. Rumor has it she miscarried several times before she started having children. They had the following:
1. stillborn son, April 30, 1873 buried at Campbell's Cemetery, Adams Township, Coshocton County, Ohio
2. Daniel Edward Stahl, born June 22, 1876
3. William Jacob Stahl, born 1879
4. John Henry Stahl, born Feb. 24, 1881
5. Elizabeth Catherine Stahl, born 1885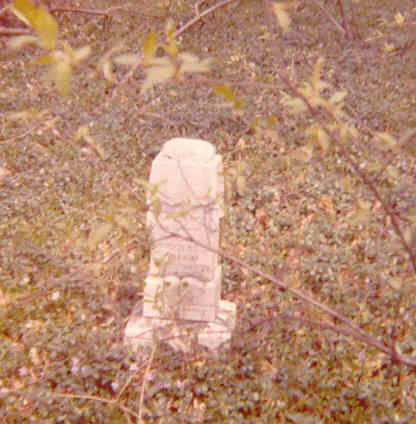 This is the infant's gravestone. That is a lamb carved on top of the stone.
Granddad would have been in his 50's and 60's when the kids were born so he must have been healthy.

John Stahl, left; Will Stahl, center; Ed Stahl, right about 1882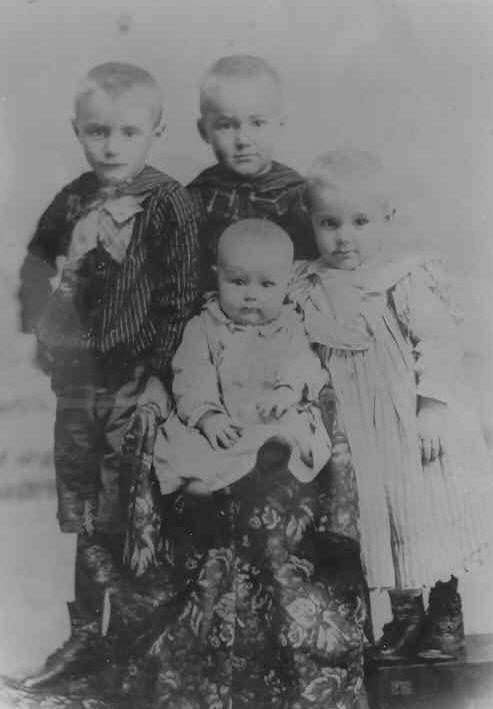 Ed Stahl, left; Will Stahl, center rear; Elizabeth Stahl front; John Stahl, right about 1886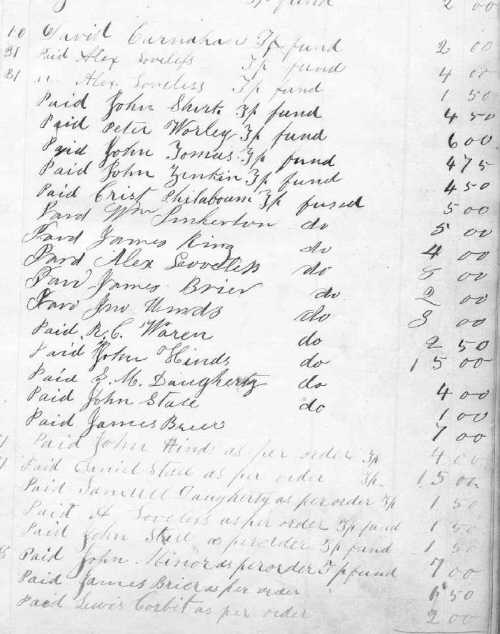 This is a page of the township records when Dan Stall was treasurer.
Notice he paid his brother John Stall who was trustee at the time (1861)
In 1876 Dan Stahl built the house that still stands on the home farm in Adams Township. This land is currently owned by Vernon Stahl, Dan's great-grandson.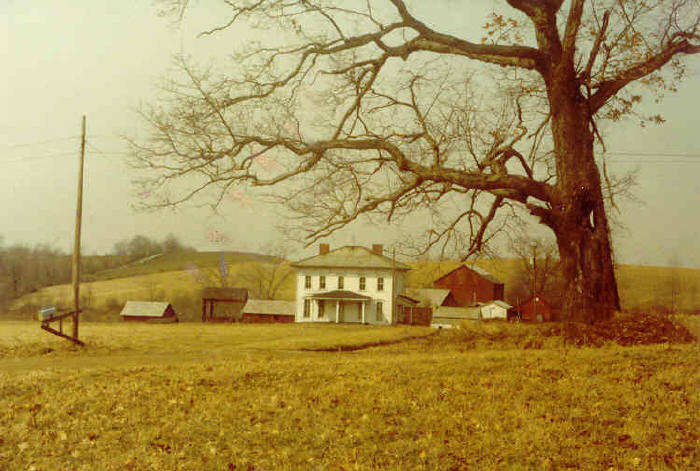 is sacred ground to our family. Generations have been born and died in this house. The front porch is different now but this is where most of the Daniel Stahl pictures were taken and the house shows up in many of the photographs you will see.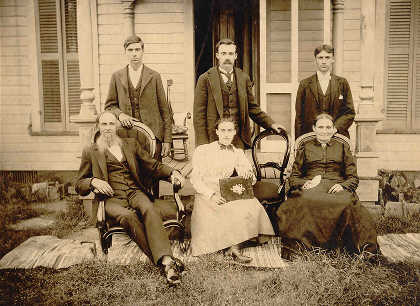 Front Daniel Stahl, Elizabeth Stahl, Mary Endlich Stahl.
Back John Stahl, Daniel Edward Stahl, William Stahl.
Photo taken about 1900. Notice cane beside Dan's chair.
Uncle Ed said about one day he was digging coal in the coal mine on the farm when for some reason he felt bad, depressed. He came out of the mine and heard his mother hollering, his dad had passed away. He was standing by the stove in the kitchen cutting his fingernails when he fell over dead. This was October 24, 1903.Mary would live until April 16, 1911 when she too would die in the old home. I remember cousin Ruth saying that several family members were there at the time. As Daniel lay corpse in the parlor of the old house, the children and teacher from the Stahl school all came over and paid respects and viewed the body. Harry Dreher who was a student said it was the first corpse he had ever seen and that Daniel did not have a beard when he lay corpse. That is strange as he has one in all known pictures of him.
Both Dan and Mary are buried at Evans Creek Church in Bucks Township, Tuscarawas County, Ohio.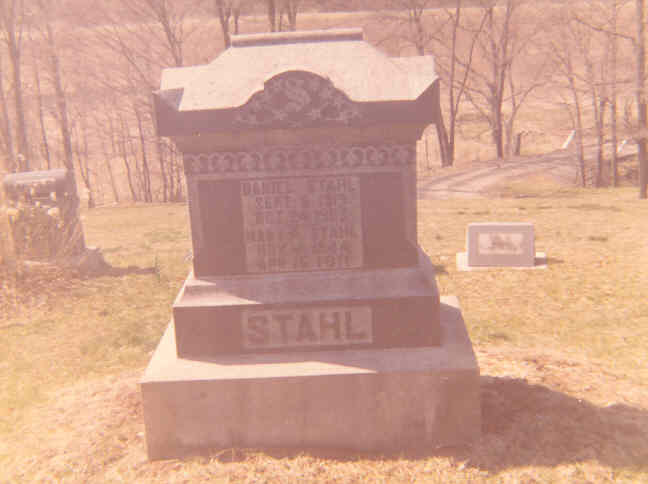 This is their tombstone. Notice even tho Daniel used the "Stall" spelling many times he is buried "Stahl"
I'll write more on Daniel in another installment and pick up the lives of the children.