Tolls
Toll Road Conversion Plans Result in Statewide Backlash
"in your lifetime most existing roads will have tolls"
— Transportation Commissioner Ric Williamson (October 11, 2004)

Communities across Texas are discovering that roads they drive every day or roads that they have been waiting to be completed will now become toll roads! Hundreds and hundreds of angry Texans are protesting plans from the State's Capital in Austin to Tomball.

"It's either toll roads, slow roads or no roads"
— Transportation Commissioner Ric Williamson (May 2004)

The Texas Legislature has directed the Transportation Commission to push for more toll roads to generate revenue for transportation projects. As soon as next year existing free state highways in Texas can be converted into toll roads. The plans for toll roads has exploded since House Bill 3588 was signed by Governor Perry a year ago. From the Governor to the Commission to the Department of Transportation the agenda is to generate revenue. Tolling existing highways and those under construction will quickly generate the cash needed to support other project such as the grandiose Trans-Texas Corridor. [TxDOT's Toll Road Finance 101

]

"Governor Perry and his friends spent
a great deal of time researching ideas to create more revenue"


— Transportation Commissioner Ric Williamson
(March 25, 2003) [citation] [full text]

It's already happening in Houston, Corpus Christi, San Antonio, Fort Bend County, Tomball, Waco and Austin, to name a few. And this is just the tip of the iceberg.
"An authority may impose a toll for transit over an existing free road, street, or public highway transferred to the authority under this chapter." [Sec. 370.176(a)]
"Highway tolls are yet another form of regressive taxation, designed to push the burden of public costs downward onto the average taxpayer/driver, while the lion's share of the benefits go to the industries demanding state-subsidized mobility and infrastructure." — Michael King, Capitol Chronicle: Blame It on the Kids, Austin Chronicle (February 1, 2002) [link]

"We are seeking expert and public opinion on how much tolls should be. If tolls are set too high, few drivers will use new toll roads. Based on national averages, Central Texans should expect to pay about 15 cents per mile. But exact amounts have yet to be determined."
— Central Texas Regional Mobility Authority (At http://www.ctrma.org/faq.php on October 26, 2004) [link]

15-Cents / Mile, National Average?
Illinois Says the National Average is 9-Cents!
Toll Agency

Automobile
(Dollars/Mile)

Chicago Skyway (IL)
$ 0.26
Transportation Corridor Agencies (CA)
$ 0.22
E-470 Public Highway Authority (CO)
$ 0.18
Richmond Metropolitan Authority (VA)
$ 0.17
TxDOT TTC-35 - Estimate, Sept, 2006 (TX)
$ 0.15
Central Texas Regional Mobility Authority - Estimate (TX)
$ 0.15
Miami-Dade Expressway Authority (FL)
$ 0.13
North Texas Tollway Authority (TX)
$ 0.11
Orlando-Orange County Expressway Authority (FL)
$ 0.10
National Average
$ 0.09
Florida Turnpike Enterprise - Cash (FL)
$ 0.08
Florida Turnpike Enterprise - Sunpass (FL)
$ 0.06
Pennsylvania Turnpike Commission (PN)
$ 0.06
South Jersey Transportation Authority (NJ)
$ 0.06
Illinois Tollway Existing System - Cash (IL)
$ 0.06
New Jersey Turnpike (NJ)
$ 0.05
Ohio Turnpike Commission (OH)
$ 0.04
New York State Thruway Authority (NY)
$ 0.03
Illinois Tollway Existing System – I-PASS (IL)
$ 0.03
Indiana DOT – Toll Road District (IN)
$ 0.03

Auto Toll Rates Effective January 1, 2005
Source: Illinois State Toll Highway Authority
.
The chart above indicates that the Chicago Skyway is one of the most expensive toll roads in the country. On October 27, 2004, the City of Chicago approved a 99-year concession to a Spanish-Australian consortium who will pay $1.82 billion within 90-days. The joint venture of Cintra Concesiones de Infraestructuras de Transporte SA of Madrid, Spain, and Macquarie Investment Holdings of Sydney, a wholly owned subsidiary of Macquarie Bank Limited (Australia's largest investment bank) expect to realize at least a 10-percent return on their investment. To achieve their profit goals the concession agreement allows Cintra-Macquarie to double tolls over the next 10 years starting with a 20% increase January 2005.

A TOLL IS A TAX
Who is anyone kidding? A Toll is a Tax, especially if it is more than the cost of providing the service you are charged for using. Some will tell you that it's a use fee or that only those who benefit from the road will be paying. Not true. There will be costs well beyond the toll. A toll road will alter traffic patterns. It may cost some their business and negatively impact local economies. It will add to everyone's cost of goods whenever it is used in commerce. It may move trucks into neighborhoods where they can avoid paying tolls. It will create a growing Class System, separating those who can pay from those who cannot.
It's All About Revenue (Profit)


TxDOT knows its all about the revenue. The Director of their Finance Division together with the Director of Finance and Administration of the Texas Turnpike Authority Division tell District Engineers and others how to pump up the profits. Remember the free alternative routes we were promised? Check the program slide below, "Limiting the Alternatives (Supply)." The alternatives they're talking about include your free alternative.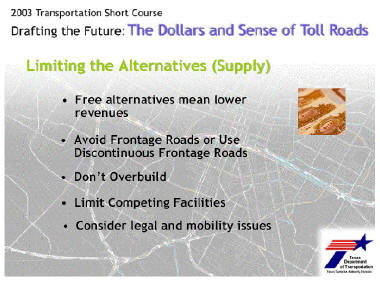 [TxDOT's Toll Road Finance 101

]
Toll roads represent double taxation. Motorists already pay for highways at the gasoline pump, vehicle registration counter, and at auto supply retailers. They should not have to pay for highways again when they exercise their right to travel on them. [proposition 15, house briefing paper]
Get The Big Picture
You may object to new toll projects in your community or region of the state, but don't address it as a local issue because it's not. This is a statewide push from the top and your local officials have a transportation funding gun pressed against their head. If they say no, they can count on getting the short end of the state funding stick forever. As a result, your local officials can't and won't be effective advocates for their citizens.
If you want to change the course of toll projects in your backyard, you need to address the statewide toll frenzy. Only the Legislature can control the Transportation Commission. It's the broad and awesome power that the Legislature gave them, even if in error, that has created the Governor's monster. Only they can fix what they broke.
Just because the state hasn't come up with a good idea for transportation funding, doesn't make this bad idea okay!
"I am opposed to converting existing public highways into toll roads.
Taxpayers have already paid for those highways and
should not have to pay to drive on roads they have already paid for."


— Senator Jeff Wentworth (November 7, 2003) [link]

When did Texas citizens lose control of their government? Why is the Governor, the Legislature, and the Transportation Commission dictating what communities want and need? His is it that elected officials feel they have an obligation to enforce the State's plan over, above, and without regard for the wishes and desires of the citizen?

Why would an elected official tell his or her constituents
that there is no other choice?

That's what many have said. Who's in charge? Isn't this still a nation of the people, by the people, for the people? Don't you wonder what "people" they're listening to?

There are always other choices. Some are better and worse than others. This solution is wrong. Let's work together to find the right solution. When we don't participate, the government is given effective permission to tell us how to conduct every aspect of our lives. That's not the State nor the United States I want to live in. How about you?

Please Get Involved! Visit these websites:
More Information:

"When the state first embraced toll roads, think tanks, politicians and government officials couldn't find enough superlatives to describe them."
But this public-private toll plan turned into disaster.


Proposition 15
HOUSE BRIEFING PAPER
Opposition Excerpts
[full text]
"Borrowing money by issuing bonds would make highways more expensive in the long run because of debt service, underwriting, and issuance costs." [more]
"Bonding would not generate new money for highways; it merely would reallocate it and tie it up for the future." [more]
"Toll roads represent double taxation. Motorists already pay for highways at the gasoline pump, vehicle registration counter, and at auto supply retailers. They should not have to pay for highways again when they exercise their right to travel on them." [more]
"If tolls alone are insufficient to undertake and sustain a project, it should not be built as a toll road. Tolls are supposed to be high enough only to pay for the toll roads and their financing. The proposed amendment's second piece of enabling legislation, SB 342 by Shapiro/Alexander, would allow excess toll revenue to be transferred to the new mobility fund. This would create an incentive to turn toll projects into "cash cows." Users of toll roads should not be expected to subsidize other highways." [more]
"Proposition 15 would undermine legislative oversight by appropriating automatically to the mobility fund any revenue dedicated to the fund. The revenue could be used as provided by the amendment and the enabling law "without further appropriation" by the Legislature. This rare bypassing of legislative control of a treasury-based fund effectively would delegate spending authority to TTC. The Legislature would have to enact statutes to direct, preempt, or change any TTC spending decisions because the amendment would preclude lawmakers from doing so through the appropriations process." [more]
"The Legislature should postpone this idea until it is prepared to pay for it." [more]
"Even if Texas' toll roads increased in number, they never would provide enough revenue to reduce significantly the huge number of other transportation projects Texas needs to build. SB 342, one piece of enabling legislation that would take effect if the voters approve Proposition 15, would turn the original toll equity concept on its head - rather than the state subsidizing toll roads, toll roads would be asked to subsidize the state highway program. In fairness, toll revenue at least should be dedicated to more toll roads." [more]